---
East Arnhem Live: Three Days, Two Worlds, One Huge Event.
Written by Rob Stewart on October 12, 2022
October 11 Rob Stewart (all ramblings within text are the thoughts and opinions of Rob and not reflective of Gove FMs ideology)
Much like the Gurindji Strike (Wave Hill Walk Off), admittedly without the political significance, this little idea, is sure to become a very big thing for music and culture in North East Arnhem Land. And I look forward to saying in many year's time when the event is one of Australia's must see events, that I was there for the first one!
The first you may have heard of East Arnhem Live was the social media online concert series that highlighted the beauty of the region plus the brilliant musicality of it's inhabitants and owners.
From that, came it's very effusive big sibling East Arnhem Live, a three day face to face immersion in music, and culture, nestled behind Rainbow Cliff you are presented with a spectacular vista across the crystal blue waters, and red cliffs of the Arafura Sea.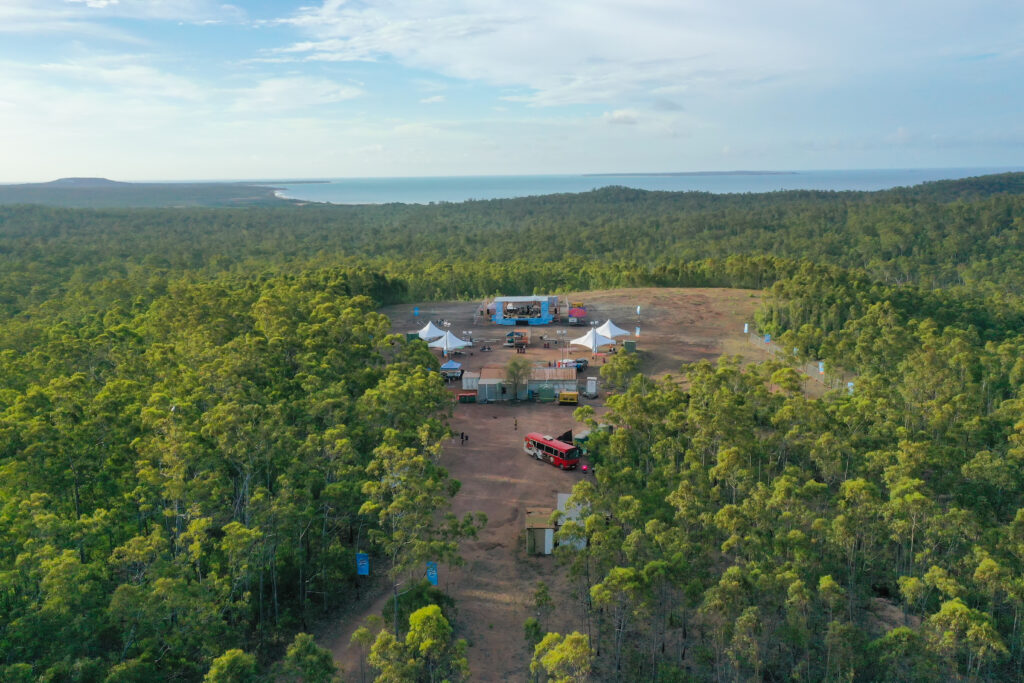 Travelling 10 minutes from Nhulunbuy, you leave the bitumen road and begin travelling across the red dirt track to the Arnhem Gun Club that snakes through a lush eucalyptus strong bush. On arrival at the event site, you get a sense that everything is gunna be a bit loose, very casual, and fun, at least that's the impression the dance mad car park / security dudes give off!
The day started on Friday September 30 with a modest and enthused crowd settling in for some seriously shit hot times. The punters who did show were magnificent human beings, the salt of the earth, some of the planet's finest examples of homo sapiens…The ones that didn't, and had no mighty reasonable excuse, or a note from their Mum, suck balls!
If you're reading this, and you were one of the ball sucking non attendees, you can make amends by pledging to your chosen deity that no matter what, you are definitely bloody going next year. This applies to Saturday and Sunday no shows also!
Friday's line up saw the show kick off with a Bungul and Manikay then MC Baykali Ganambarr primed up the keen crowd to welcome the events first act the Arafura Swamp Band from Ramingining who breathed some sweet reggae / blues energy into the evening with a cracking selection of originals and a pleasantly suprising cover or two.
Julian Bel Bachir and his two contemporaries, followed up with a refined and chilled selection of world music with the two Kora prong attack complimented with some smooth Gibson SG guitar fusing traditional African sounds with modern effects and production.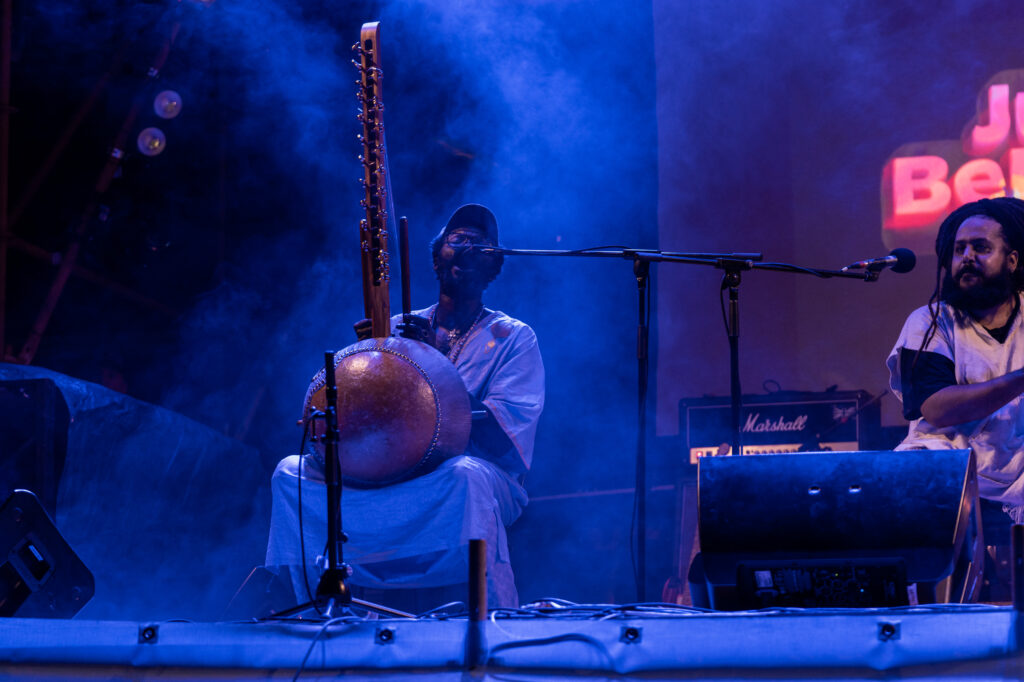 Local sensations the Andrew Gurruwiwi Band, sailed into the chilled atmos and set about shaking the scaffolds foundations with a powerful and tight set of Yolngu reggae rock funk fusion, AG has a passion to get mob shaking their derrieres and he was in fine form this night.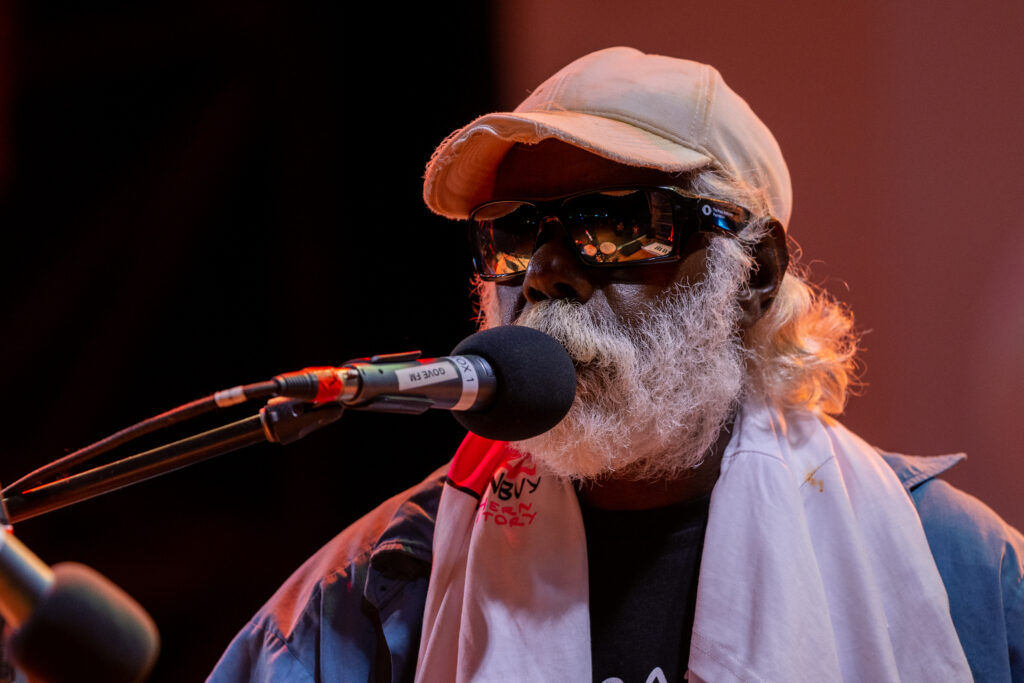 Salt Lake Band from Umbakumba (Groote Eylandt) and their blend of reggae rock partnered with traditional dance and yidaki were primed for the gig, and inspired by what had come before them. They gave it everything they could deliver and seemed to be having the time of their lives!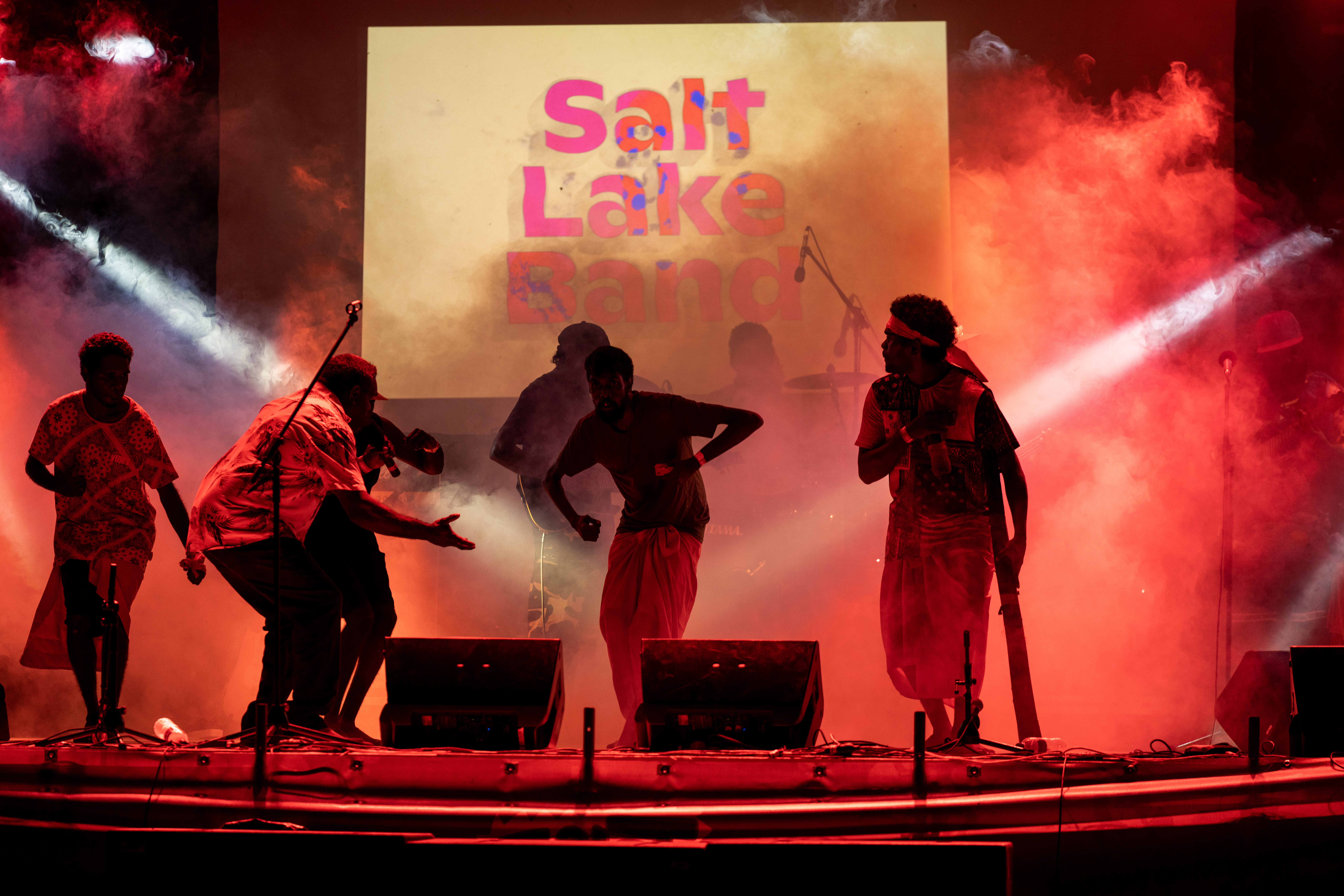 Closing the night was the job of electronic artist Monkey Marc, a seasoned artist who has played international festivals, and he was supported by the insanely talented vocals of Vida Sunshyne and Ray. It was a real performance highlight for the day, unfortunately there was a mass exodus after the Salt Lake Band so those early escapers missed out on some really serious talent…Hopefully you feel slightly ashamed of your early leaving selves!
Saturday saw a bigger mob of local humans all gracing the festival, and furiously consuming tasty tucker and stashing up on tidy merch that featured the brilliant and unbeatable art and design of Gove's favourite creative, Kris Keogh.
Late afternoon saw the arrival on stage of DJ Walrii (AKA Isaac Ismail) his set of sounds harnessed his affinity with UK bass and rave culture.
Julian Bel Bachir then returned to the stage to tantalise and hypnotise with his bands African fusion sounds.
Then it was time for something completely different…The infectious funster rock of Nhulunbuy's mostly all girl legends of originality, Papa Said. Livvy and Jen, laughed, smiled, sung, riffed, rocked and filled the festival stage like they were the ones that signed off the scaff tag and said to the organisers, yep this stage is sweet as, and ready to rock n roll! The sensational Kaz was behind the wheel in the engine room keeping it cool, on time, and solid AF. But perhaps the biggest effort for their set, was achieving the challenge to keep it fucking clean! (the language, not the stage)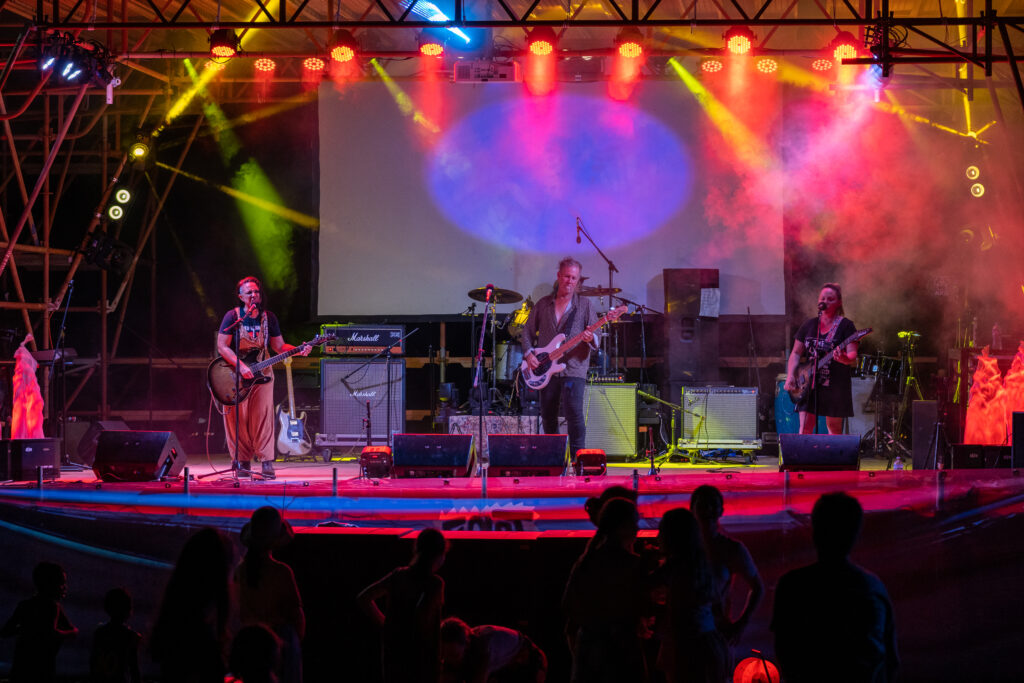 PS I didn't mention the bass player, cos it was me, I just had the time of my life having the privilege to rock with Papa Said.
Mr Chrisy Mertas were the natural extension from Papa Said and Nhulunbuy's best punk rockers set about making themselves, seen, heard, and bloody loved! The freaks unleashed with a scorching Pink Floyd cover and then set about displaying their mighty impressive selection of choice original tunes thereafter!
Matty, Matt and Jake look like they belong in a band, and play with the unity of people who truly energise off each other's performance. And Jakes drumming, what a bloody machine!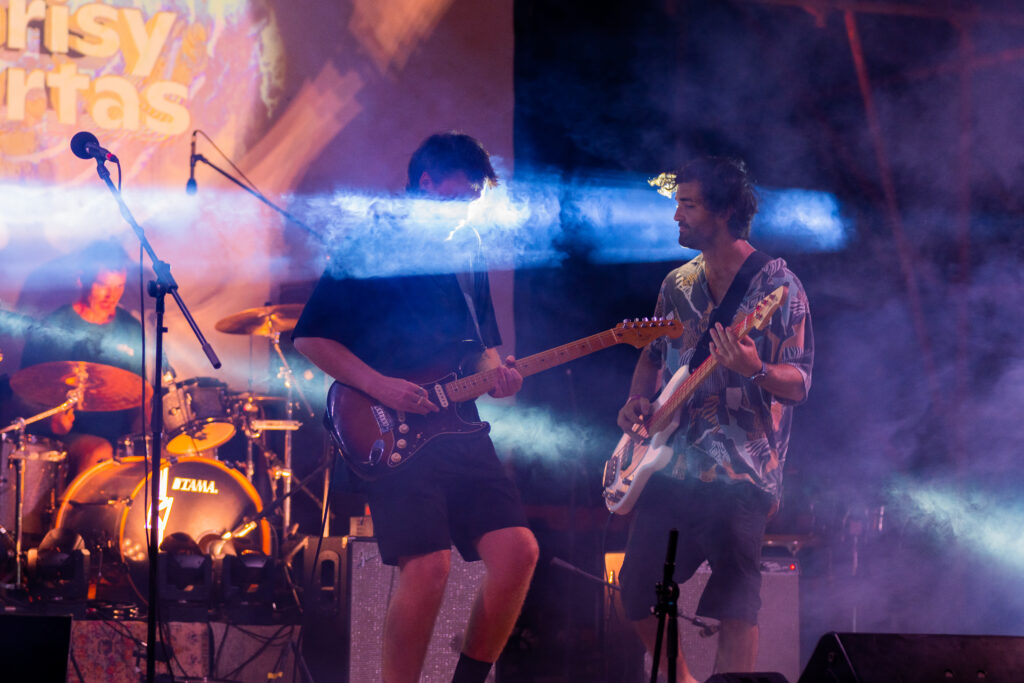 Now that the energy was peaking, it was the right time to introduce Baniyala's finest, the Garrangali Band. Combining traditional song lines and rolling bass lines Garrangali deliver a sweet saltwater ska sound. The number of band members is heaps, nearly more the the early Friday afternoon crowd! It's bloody lucky the stage was so big, in order to handle such a huge sound!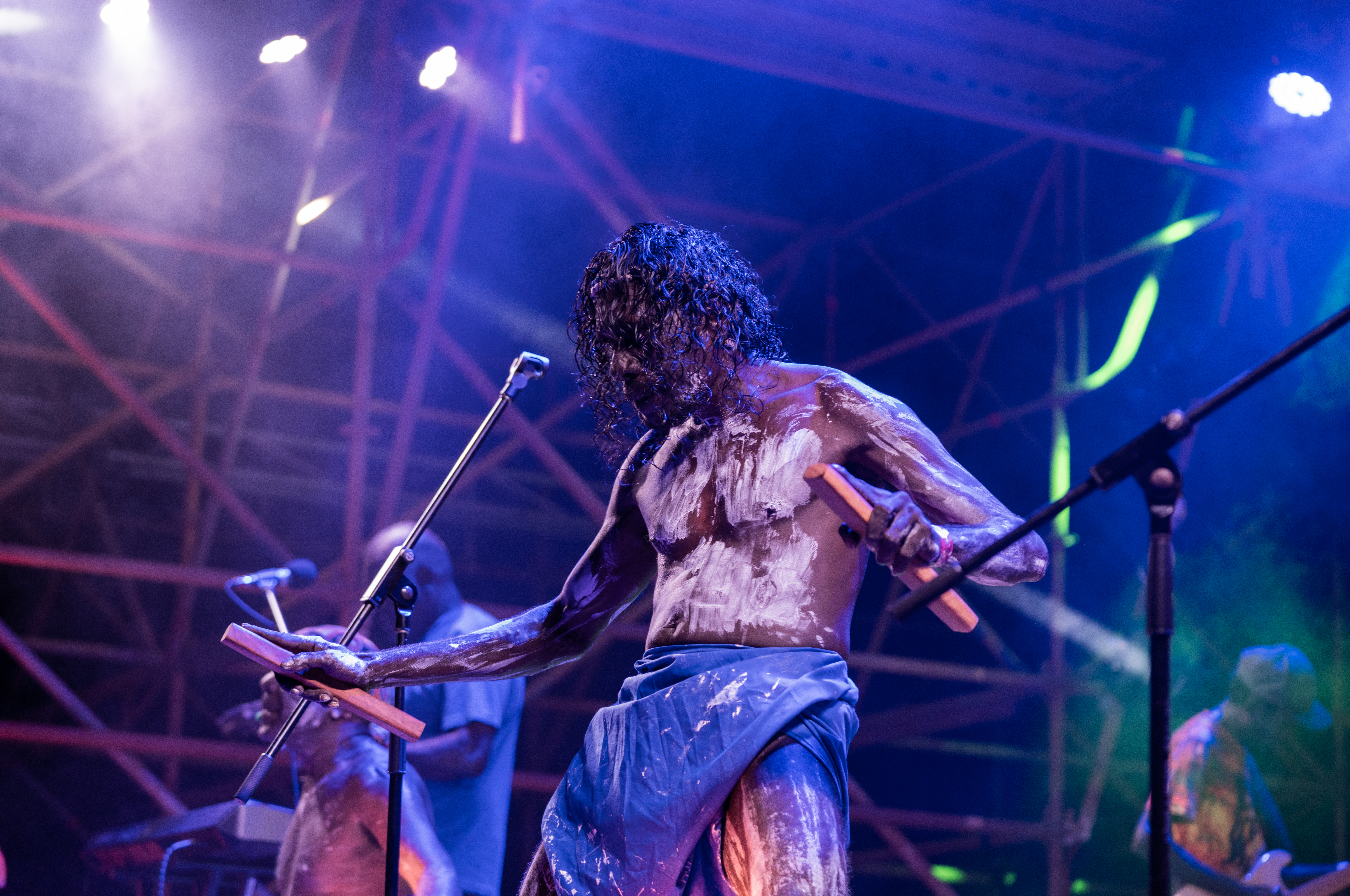 Last band for the night was the superb Dhapanbal Yunupingu who was backed by members of the Andrew Gurruwiwi Band, East Journey and Yothu Yindi. Dhapanbal's music is refreshing, heartfelt, and so inspiring for Yolngu females, to see a front woman, a performer, and proud artist being the focal point. Dhapanbal and her cohort were in the groove and proved to be a crowd favourite.
Closing out Saturday night was DJ Soju Gang who's enthusiasm, energy and pumping party set list kept the crowd buzzing!
Sunday was the festivals last day, and saw the return to the stage of a number of bands from Friday and Saturday with a couple of exceptions, the first being the return to stage of East Journey. This bunch of insanely great musicians have been on and off in recent times, but it was quite the thrill to see a bona fide set of East Journey tunes being ripped into again. A festival that presents so many privileges across three day is a very bloody worthy festival!
The other last day highlight came from the events All Star band that saw a number of different bands musos come together to rock out, and one stand out track in particular was Wipeout! This transpired into one of the most fun and exciting songs I've witnessed in a long time. It all started as Wipeout covers normally do, the riff, the groove, feeling surfy. It was at the mid way point that the performance started its transformative brilliance. As the floor tom solo sounds out a different drummer appears from side of stage and swaps out with the existing drummer without missing a beat. This happened not, once, not twice, not even three times…it happened so much I lost count which didn't matter as I was having fun. The beauty being that with every different drummer swap out, the song got a little more energy, and a little bit faster, until it reached epicness. Andy Grimes beast mode drumming was certainly a sight and sound to remember!
And to close out proceedings, our opening song man Jason Gurruwiwi brought the curtain down on a very worthy event.
Talking to those in the know, bigger and better things are in the planning stage for next year, and given that organisers have a whole lot more time to fine tune and plan, it's gunna be epic!
Just remember, don't suck and stay at home like a compulsive onanist, be a brilliant homo sapien and support live music and local culture!
And to finish off, a massive thanks to all involved from the organisers, to the shit hot stage techs, to the volunteers, to the workers, to the lovely punters and most importantly, the bands. All you mob rocked!
---
Reader's opinions
---