---
Southeast Desert Metal 08.05.2021
Written by Rob Stewart on May 12, 2021
Saturday night at Darwin Entertainment Centre's Stage Theatre was the scene of paradoxical delights. It was where brutality and precision were interwoven through a seemingly unlikely ally.
Welcome to the world of Southeast Desert Metal. A very metal band who hail from the Arrernte Indigenous Community of Santa Teresa, making them possibly one of the most isolated Heavy Metal bands in the world!
Wetting our appetites for what will be a wonderful evening of horns out was Darwin stalwarts Roymackonkey.
Roymackonkey played with an accomplished gusto that highlighted a band who operate as a cohesive unit with a hive mind for creativity. Their original music easily engages those unfamiliar with their work and delivers a fuck yeah to those who know them well.
After a dash to the bar between sets and a glowing endorsement from Air-raid Records proprietor Ryan it was back into the dry ice and excitement that will be Southeast Desert Metal live experience.
Having only previously googled a couple of their tunes, it was enough to have me anticipating some quality workmanship. From the first opening bars it was enough to convince me that these workers are going to easily deserve a pay rise!
Southeast Desert Metals glaringly obvious uniqueness is akin to their musicality, these dudes play tight and know how to rock. Crowd engagement and collaboration was a sight to behold, and I couldn't help but wonder if Metallica's management have been made aware that possibly the best support band ever are ready and waiting.
What Southeast Desert Metal delivered on the night was a sensational set of music that truly deserves a much wider audience.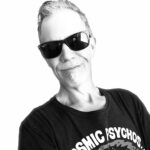 The Australian Bureau of Mediocrity
|
+ posts
I write stuff down when I can find a spare moment, I try not to work too hard.
---
Reader's opinions
---